I hope you will consider working with me.  Highlighted below are the services I offer at McHugh & Company, my consulting practice.
My cohesive, customized, integrated services target four simple, but important questions for the client companies and management teams.
What is the "business model" today and what is the business model of the future?
Is the company properly organized (ownership, management, people, systems, policies) to deliver this business model?
Is the company executing effectively (costs, services)?
How can the financial performance and shareholder value be optimized?
More detail about each type of interrelated service can be found in the sections below and in the my company's website.
I also offer a FREE no obligation 30 minute phone consultation. Contact me and let's talk!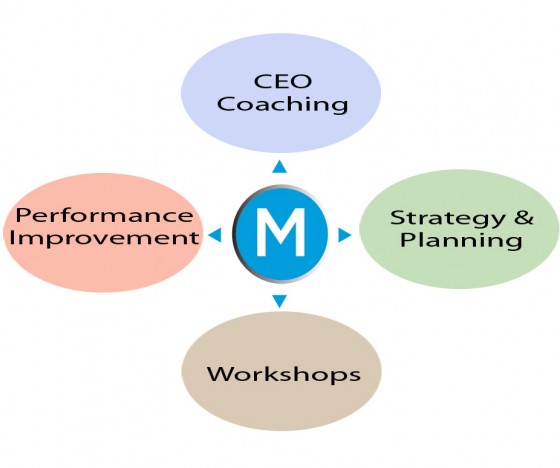 CEO Coaching
All of my project work has a significant coaching connection to the CEO and his/her team. I have worked with CEOs from a diverse range of companies in size, scope and industries. My project approach is always 'hands on' with the CEO and the team. CEO Coaching is also something that can be done separately 1-1 between the CEO and me on a regular or as-needed basis.
Strategy and Planning
Strategy & Planning consists of an integrated set of actions an organization takes to maximize shareholder value.  My assessment work (see below) has frequently identified the need for a new strategic direction, a new operational planning process or both. The strategy/planning activities can be either 'deep dives' or short management workshops, depending on the need.
Performance Improvement
My Performance Improvement work takes aim at the many variables that can negatively impact overall company performance.  You get an objective perspective that you may not hear from your own team. I have been summoned countless times to companies in a variety of industries by CEOs, investors, family owners and Directors to perform a comprehensive Strategic/Operational/Financial Assessment of their company. I take on the devil's advocate role and become the "fresh pair of eyes".
This type of assessment is a thorough, independent evaluation/due diligence of the "state of the company".The end product is a comprehensive array of observations, analysis and a set of go forward recommendations on how to grow the business and build shareholder value.
The shareholders and management get an objective perspective they may not hear from their own team. Some examples of successful outcomes:
clarity on overall direction and focus

sharper business model

huge reduction in complexity

innovative go-to-market tactics

process bottlenecks identified and cleaned up

improved financial management

actions to increase profitability and cash flow

changes to the organizational structure

new or changed positions/people

dramatic increases in EBITDA
Customized Workshops
I can facilitate on- and off-site Strategic Planning or 9Stucks Performance Improvement Workshops of any size or scope. We work with senior management to prepare for the meetings by going over content, agenda, timing, special issues, expected outcomes and follow up steps. The focus of the 9Stucks workshop is performance improvement. The workshop's goal is to quickly diagnose the conditions that are causing your company to be stuck and to create action steps to fix them. It uses the 9Stucks diagnostic model to guide the discussion.  The content/approach used in the more detailed assessment noted above is compressed into a one or two day interactive format. The detailed 9Stucks checklist examines leadership, planning methods, people/organizational structure/culture, industry dynamics, go-to-market tactics, competition, business model, financial condition, and systems/processes.  Let me help you plan and conduct your next meeting!
I also offer a FREE no obligation 30 minute phone consultation. Contact me and let's talk!