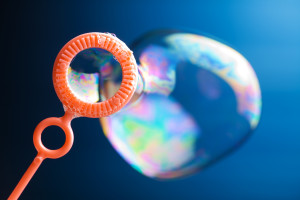 I recently returned from my college reunion… swept back in time to the days when living in my college bubble was a secure yet liberating environment.  Those were happy personal times – times of discovery, growth, socialization, and empowerment.
Based on my experience working with 'stuck' companies, executives caught in a company bubble might not be having as much fun. Operating in a company bubble suggests you are isolated, cut off from outside perspectives.  Is your company operating in a bubble?
This is Part 4 in my multi-part series that explains how 5 particularly disabling conditions can exacerbate family business underperformance.
If there is a weak independent board of directors/advisors, or one doesn't exist, then governance and decision-making at the top of a family owned company is concentrated and insulated.  Due to the historical, generational ownership structure, there is a tendency that a family business could be prone to operate in its own unique bubble. If this is the case, does the addition of weak governance to the mix cause a family company to live in a double bubble?
What's the significance of the 'no governance' topic? Many privately-held companies do not have any formal board of directors/advisors.
I've seen first hand where the lack of solid governance makes a difference. Similar to the other issues covered in this 'Pesky Plights' series, the absence of good external, independent governance could have negative implications on company execution.  Weak or no governance may prevent the family shareholders from facing up to and dealing with a myriad of challenges within their company.  Carefully assembled boards bring accountability, seasoned advice, realism, objectivity, innovative ideas and often inspiration.
Consider the situation at an established – but flat and stuck – family-owned manufacturing company with no outside board (let's call it BubbleCo).