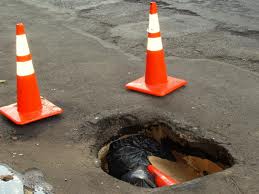 I've been contacted a number of times this year by business partners who are bickering with each other and/or struggling over the condition of their business.
It seems like there have been more of these calls than in the past…maybe my blogging is the little nudge that pushed the business owners to either phone or email me.
Do you and your business partners get along?
Yes? That's great! You are in good shape. If you want to maintain that success, I suggest avoiding the potholes by reading this post.
No? Did you get along when you started out, but not anymore? What's changed?
There are 7 reasons (7 Partner Potholes) why conflict creeps into 'partner' type businesses and causes successful companies to fray or even break up after many fruitful years of existence. Conflict among business partners can become burdensome, intrusive, even crippling to the day-to-day operations of a company. Over the course of my business career, I have seen and/or worked with companies that have had ALL of the 7 Partner Potholes.
How can these situations be fixed or avoided? Are there some partner conflicts that can't be fixed?
For purposes of this article, I define a 'partner' type organization rather broadly. Some of my business partner examples include, but are not limited to:
a company with 2 or more shareholders
a company founded or acquired by one or more entrepreneurs and who subsequently allowed others to become shareholders over time (the equity mechanism is not relevant for this article)
a professional services firm (e.g. consulting, engineering/environmental, medical practice, accounting, financial advisory, wealth management, investment banking, law etc.)
a group of managing partners of a venture capital or private equity firm
there are obviously more examples…
Note: Excluded from this discussion are 1) family-owned companies and 2) companies with substantive, outside investments from venture capital/private equity groups (i.e. no institutional money to muddy the water). These two types of companies can have their own unique set of leadership issues that are different from the business partner dynamics discussed below.
In many of the situations I've witnessed about these seven, the stories fall into the 'you can't make this stuff up', Stuck in the Ditch genre. No MBA textbook will cover this ground.
Presenting the 7 Partner Potholes: [Read more…]