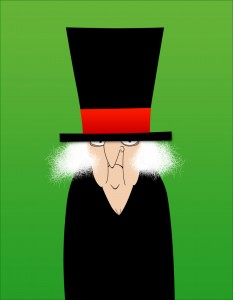 Scrooge and Marley PLC was stuck.
I don't identify my clients by name, but given the widespread publicity and overall notoriety of this particular company, I felt it would be beneficial to reveal the real 'story behind the story'. This is a case study about how Scrooge and Marley PLC became unstuck.
Background
Scrooge and Marley was a mature, privately-held 'counting house'. The company was founded by Jacob Marley and Ebenezer Scrooge, two aggressive, entrepreneurial clerks. There were no outside investors and no cash awards from any business accelerator programs. (Hard to imagine who might have wanted to hear their elevator pitch!)
What is a 'counting house'? Marley called their business a 'money-changing hole'. It was a closely held, secretive financial institution that charged high interest rates on all transactions. They were loan sharks…predatory lenders operating out of a dingy warehouse. It's a good thing their home office was in London, otherwise they probably would have been targeted by Dodd-Frank or The Consumer Finance Protection Bureau.
Jacob Marley died while he was still employed at the company. There was no key man life insurance; they were too cheap to buy a policy. After Marley's death, Scrooge became the sole shareholder and he decided to run Scrooge and Marley as he saw fit.
Little did Scrooge know that Jacob decided to maintain a Board observer role.