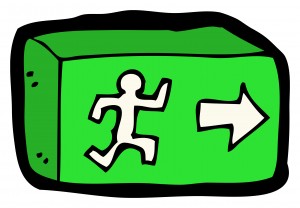 Exit Planning is a trendy topic, especially for owners of stuck companies who often develop the itch to sell their business when raw emotions push aside rational thought.
Exit Planning means helping prepare the company and shareholders for an 'exit event' (aka Sale).
The idea of "It's time to sell the business" becomes more top of the mind when the owner(s) of a stuck company grow weary of dealing with their own personal collection of stucks. Here are some points of frustration…
Since I have been asked about Exit Planning/Selling a business frequently in the last couple of months, I thought I would share an email I wrote to the CEO of a stuck company who was contemplating selling.  Here goes:
____________________________________________________________________________________________________________________________
Dear Jack:
I'm glad you called.  It takes some courage to critically evaluate your business and get it ready for sale.  Your comment about needing a "fresh pair of eyes" to help you objectively assess the company ("MetalCo") indicates you want to do what's best for your family, your company and your employees.  Selling a company can be a complicated process, especially if you are not prepared for all the twists and turns along the way.  Even though you are a seller, you need to think like a buyer; I can help you do that.
You've been thinking about selling for a while.  You've told me you have received many enticing, unsolicited letters from investment bankers and prospective buyers that try to coax you into selling your business.  It's true – there are an abundance of buyers with lots of money that can easily complete a deal…but remember, they only want to buy the right company at the right price.
Let me answer a couple of your preliminary questions…
One: Should I go to one of those "Preparing Your Company For Sale" seminars?
Sure, getting general information and perspectives from investment bankers, lawyers, accountants etc. can't hurt.  But don't fall into the trap of using generic timetables and canned valuation estimates to ultimately guide your decision-making about when to sell or what to expect for value.  Some of these seminars are narrowly focused only on the many legal and tax considerations associated with a sale.  Those topics are important and need to be carefully managed, but if the strategic, operational, financial and people aspects of your company are weak, "crossing the T's and dotting the I's" won't make the company more attractive to a buyer.
Two: Should I hire an investment banker now or should I consider doing a FSBO (for sale by owner)?
No, and No.  When you are ready to "put the house on the market" you should hire an investment banker.  When a reputable investment banking firm takes on a company, they will work closely with you as your advocate, drive the entire sales process and get the deal done.  Some IBankers will say they can help you get the company ready for sale, but they're really not in the fix-it-up and repair business.
Don't sell your company yourself – you would probably leave too much money on the table and get frustrated by the detailed due diligence, endless negotiations and legal matters; your emotions will interfere with the sales process.  When the time is right to put the 'For Sale' sign out, hire a complete professional team (get an experienced transaction attorney) and let them run the deal.
Three: Who is the ideal buyer?
There are three basic types of buyers: a) strategic (an established company in your industry); b) financial (an organized private equity fund or a management group backed by a financial source) and c) your management team.  Generally speaking, sellers often think that a strategic buyer will offer the highest price; but given the combination of the enormous amount of available capital in private equity funds and a favorable banking climate, these groups can compete with the strategic buyer.  Any of these types of buyers might be viable, but don't direct your early thinking or the "getting it ready for sale" process to one in particular.  They each have their own specific set of needs and motivations and it makes no sense to second guess what those criteria might be.
Four: Is this the time to sell?
We need to re-visit the motivations and expectations that are driving your decision to sell the company.  I heard your emotion and frustration in our phone call. You've been at this a long time – you started the company close to 30 years ago and it has been a good provider to you and your family.  Your reasons to sell are pretty typical: a desire to "enjoy life" outside the business; diversify your financial affairs (i.e. get some liquidity instead of having a significant part of your assets tied up in company stock); some minor health issues are starting to impact the amount of time you can devote to the company.  I'm not sure this is the right time to sell.  
Five: What is the value of my business?
To be blunt, based upon the limited financial information that you have given me, your current expectations of value from a sale are really not realistic (i.e. it could be worth what you expect at some point, but not with the variety of issues and challenges confronting the business today). The revitalization programs need to be started ASAP.  I realize valuation is a complicated matter that is obviously influenced by a number of tangible and intangible considerations.  However, don't let a "country club" valuation drive your thinking and set unrealistic goals.  Just because Harry sold his company for X times earnings or Y percent of revenue doesn't mean that you will achieve the same range.
Jack, since you are not really under any short term time pressures, we've got time to position the company so you can receive the highest valuation and best terms possible.  Where do we start to take apart the company? Getting a company ready for a successful sale involves doing many of the things we've already talked about to fix the issues that are making your business stuck.
Six: What are the key elements that will make the company an attractive acquisition candidate?
The checklist is not complicated. I call it the Run the Company Well List. At the end of your change process you should have:
an outstanding leadership team that works well together
a cohesive and well-tested strategy
a great culture
a motivated, loyal, skilled workforce that is well treated and compensated fairly
unique products and/or services delivered with high quality
innovative, go-to-market tactics
happy customers, whose needs are well understood
a strong and defensible competitive position
a clear, uncomplicated, solid business model
a balance sheet that is solid as a rock
a P&L that shows consistent growth, high margins and a justifiable expense structure
lean processes, effective information systems, strong financial controls
well cared for fixed assets
Jack, I hope these observations are helpful to you as you contemplate this major transition in your business and personal life.  I'm here with further guidance should you need to talk.
My best to you.   Jim McHugh
_____________________________________________________________________________________________________________________________________
What happened with Jack?  Was the process a quick fix?
You can't spruce up all the items on the Run the Company Well List overnight.  Once you have a strong collection of items on your own Run The Company Well List, the liquidity event won't be a problem.  
In Jack's case, I worked with him and his colleagues to bring about the necessary changes to the company to position it for sale.  He enlisted a reputable IBanker familiar with his industry and sold the company to a strategic buyer.  He negotiated his own transition role, and is one happy camper.