StorageCo's most pressing issues
The second post in The 9Stucks Boot Camp Series ('An Eyeful and an Earful') called out a number of StorageCo's challenging issues (a real Stuck Salmagundi). Typically, there are problems that stand out and dominate all the others. StorageCo's 2 biggest issues were:
a business model that generated unnecessary complexity, added costs and caused tension throughout the company and the leadership team
plants, equipment, and processes that were old and inefficient (this will be covered in the fourth/next post 'Go with the Flow(charting)')
Questions for you to consider are:
What is a business model?
Why is StorageCo's business too complex?
What can be done to fix their business model?
The Business Model
A business model (i.e. the 'guts of the business') is the combination of operating entities, plants/locations, products or services, distribution channels, customers and the associated operational policies that support this unique mix. StorageCo had 2 plants and 4 product lines. For purposes of this discussion let's call the product lines 1) Specialty, 2) Plain Vanilla, 3) Logjam (hint), and 4) Industrial. Summary product line sales, customer data and order data are highlighted in the chart below.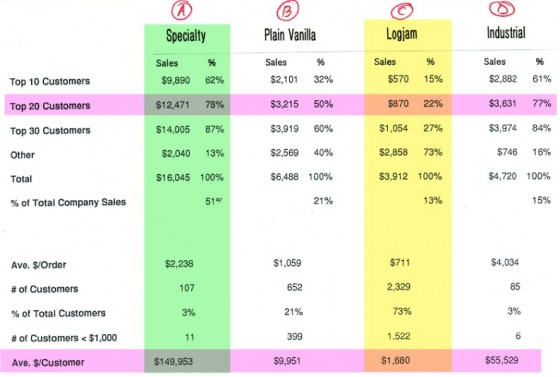 What makes StorageCo's business model too complex?
The Specialty line was strong and growing. The Plain Vanilla line was stagnant and turning into a set of commodity-like products. The Logjam line was just that – a real logjam that was causing major problems  for the company. The line was composed of a set of products that were all in steady decline (and this segment of the industry was drying up). But the Logjam line was what the company originally started making – it was one of the family owners' major sacred cows.
A classic 80/20 analysis can be an extremely useful tool to help reduce complexity and prioritize product lines and customers.  Illinois Tool Works, a large diversified manufacturing company cites an 80/20 philosophy as one of their 'guiding principals'.
Here are some 80/20 statistics for PaperCo's Product Lines:
Specialty's top 20 customers accounted for 78% of that product lines sales;

Logjam's

 Top 20 = 22% of sales
Specialty's average sales/customer were approximately $150,000;

Logjam's

 average sales/customer was $1,680. A huge difference.
Specialty had 107 customers;

Logjam

had 2,329.
Specialty had 11 customers with annual sales of less than $1,000;

Logjam

had 1,522!
In one year, the company processed 6,689 orders for Specialty ($2,312 average per order);

Logjam

had a similar number of orders (6,439) but with about 1/3 the value per order ($643).
The differences in product lines sales and volume were stark. Logjam had lots of small customers sending in lots of small orders; this combination added significant complexity to the overall business model. Other negatives included:
more infrastructure in credit and order processing
short production runs and short lead times
high warehousing costs, large number of small shipments
limited growth potential
Distribution channels:
Specialty: direct sales by experienced national accounts salespeople
Plain Vanilla: distributors

Logjam:

large direct sales force throughout Northeast and Mid Atlantic Regions
Industrial: direct sales force to the Northeast Region
Logjam's direct sales force was running all over big chunks of the Eastern Seaboard; this was costly, highly personalized and inefficient.
The Plants
Specialty, Plain Vanilla and Industrial products were made in 'Plant 2′ (a relatively new facility). Logjam's products were all made in the original, old, inefficient, small facility. Picture an old mill style building in your mind.  The two plants were located in different towns, so getting back and forth was a time drain.  Members of the management team were split between the two locations.  This restricted communication and general people interaction.
What do you think about their business model? Do you agree it needs to be fixed? If so, what would you do to reduce the overall complexity?
Hint: My answers can be found in the 4th post of The 9Stucks Boot Camp Series: 'Go with the Flow(charting)'