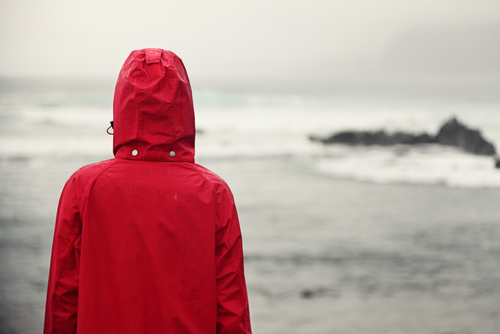 CEOs and employees of stuck companies reveal three recurring themes when I interview them during coaching sessions. These themes launched a series of three blog posts about 'Emotional Venting in a Stuck Company'.
Episode 1 illustrated the importance of listening to the emotional reactions of a stuck company's key people about LEADERSHIP – the unfiltered, raw, spill your guts variety. Their voices express what they live everyday. Episode 3 will cover internal confusion about OPERATIONS.
This second Episode documents the wide range of emotion about a company's EXTERNAL FORCES. External forces have a decided influence on your corporate strategy.  The key external forces that impact your organization are:

economic
political, governmental
social, cultural, demographic
technological
industry specific
customer behavior
competitive pressures
The external forces can be an impending threat or they may present strategic opportunities for your business. Your interpretation of and reaction to these external forces directly impact the strategic decisions you make. 
The 9Stucks that relate to external forces are Another World, Rut and Traffic. The comments I hear from leadership teams about these stucks reveal a wide range of emotion: angst, indifference, measured confidence, or arrogance.  Their typical hot buttons topics are concentrated around:
industries in flux
unpredictable customer behavior
constant competitive pressure.
From Angst to Arrogance
For some companies, external forces are the incoming storm clouds that create angst and hand-wringing for the leadership team.
Consider this comment trifecta about angst…
Win: "Why are we losing money all of a sudden?"
Place: "We can't lose that volume!"
Show: "Are we going to market correctly?"
But wait! While some people worry, others have blinders on (or maybe false bravado?).
This medal round speaks to the arrogance…
Gold: "Demand for our products will never go away."
Silver: "No one can compete with us."
Bronze: "Our market is HUGE."
Listen to what's been said already…here's another peek at my notes from initial client meetings.
Another World
Another World means: "Insufficient reactions to shifting external forces."
Rut
Rut means: "Go-to-market methods are outdated and ineffective."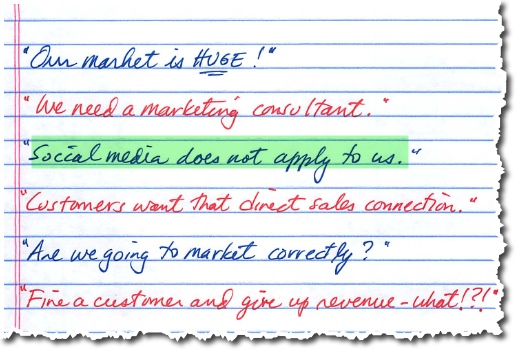 Traffic
Traffic means: "In the face of aggressive competition, management reacts in one of two ways – they panic or fall asleep."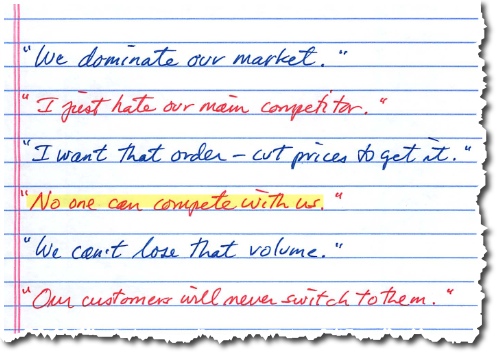 How are you going to shift your behavior from being frozen or arrogant to a proactive, problem solving approach?
Get your head out of the sand; industries change constantly. Don't be afraid to confront what's going on around you.
Be honest with yourself if your company has declining core strengths and/or also-ran product/service offerings.
Rethink how you define your markets.
Don't be stubborn about what go-to-market strategies and tactics you have historically used; don't be trendy for the sake of being trendy, but don't be old-fashioned either.
If you are selling to the wrong customers, say goodbye to them.
Don't panic in the face of aggressive competition and implement frantic moves that are grounded in fear. Calm down, think strategically, maintain your focus and choose your responses carefully. Leverage your reactions using your pockets of strength and shore up the weaknesses that need to be fixed.
Don't fall asleep about your competitors; they may sneak up and pounce. Recognize the competition (real and emerging).
How do you react to EXTERNAL FORCES?  
Do any of the quotes above sound familiar?