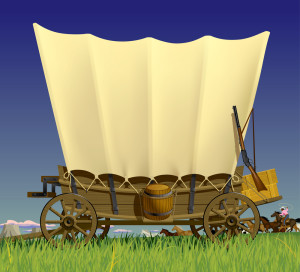 Imagine the scene: the CEO and a collection of company shareholders, directors and senior management team members have piled into their corporate Covered Prairie Wagon. The wagon is lumbering down the winding, bumpy, rutted path called the Shareholder Value Road.
Or…instead of a crowded, hot Prairie Wagon (did the Pioneers hang those 'Little Trees' air fresheners…), maybe it's just you bouncing along in your own personal buckboard.
No matter what you're driving, at some point on the journey all corporate wagons come to a major crossroad – a Strategic Crossroad.  Generally, more than one Strategic Crossroad is encountered on the long Shareholder Value Road. You can hit them:
early in the adventure
at a mature midpoint
unexpectedly
and/or near the end of the trail
Whatever the natural stopping point, critical choices have to be made – you (and your traveling companions) have to pick a direction and move on. Chances are you will have to 'make camp' for a bit while the directional choices are identified, evaluated, debated, argued, rejected and decided. In some extended encampments, the travellers may need a lot of provisions!
There could be many signs in front of you…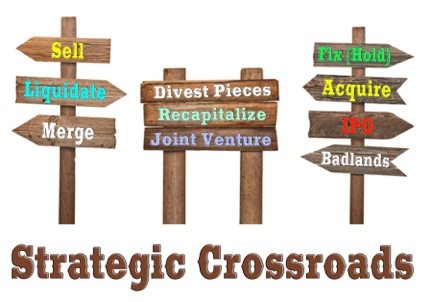 Business press releases offer repetitious stories about strategic choices/alternatives found on the Shareholder Value Road all the time. The public company stories are generally presented in a very clinical light.   Here are a couple of examples from well known companies: