This is the fifth and final post in The 9Stucks Boot Camp Series.
These five posts illustrate a real example of a stuck project from start to finish. As I said in the first post ('A Fresh Pair of Eyes'), when I began this project 20 years ago, I had no idea that StorageCo was stuck, nor had I done any thinking about the 9Stucks diagnostic. This was where I saw first hand many of the issues and patterns that would form the 9Stucks.
Food Fight
The project was nearing an end, so I began to share my findings and recommendations with the two owners – Pete (the CEO) and Susan, the EVP.
As I said in the third post ('Logjams and the 80/20 Rule'), the Logjam product line was hurting the overall company performance. I told  the owners they should sell it. Pete (the CEO) basically agreed with me, but his sister Susan was very luke warm to the idea. Pete suggested that we all go to dinner to discuss the pro's and con's of selling the product line. We went to a popular, busy Italian restaurant a few miles from their offices.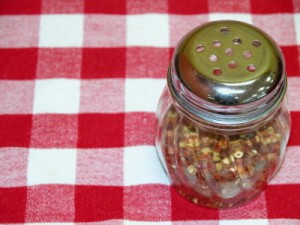 This is where the fireworks started. Pete and Susan were sitting across from each other at the table (and I was to their side). As we talked about the potential sale of Logjam, they started to argue (loudly!). They ended up standing face to face at the table in the middle of the crowded restaurant yelling at each other. This was not going well…
The next morning one of the members of the Board of Directors called and asked "What did you say to them!!?" Since he was a long-time family friend, he was able to help diffuse the tension. Susan was being emotional about the Logjam line because it was the original part of the business founded by their grandfather. It was their most significant Sacred Cow. When we were able to get Susan to think with her head instead of just her heart, she became convinced that it was time to change the structure of the company.