This is the first installment in the 9Stucks Boot Camp, a series of five blog posts that illustrate the diagnosis, treatment, and cure of a significantly stuck company.  This series is a stuck story from start to finish.
A consulting  engagement at this "StorageCo" company is where the 'stuck' concept was hatched over 20 years ago.
The five posts in this Series are:
A Fresh Pair of Eyes: How the project started
An Eyeful and an Earful: What I found after digging in
Logjam and the 80/20 Rule: Discussion of StorageCo's business model
Go with the Flow(charting): The major business process issues
Coach or Food Fight Referee: The Fixes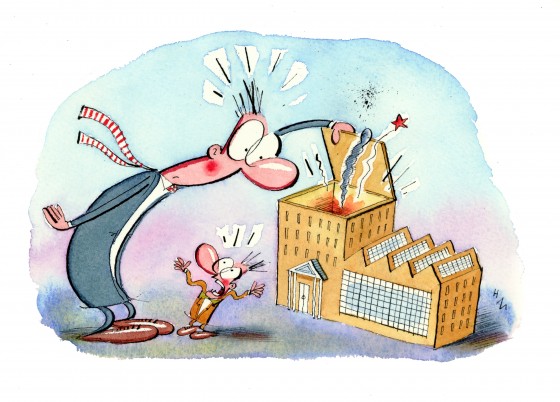 StorageCo wasn't a troubled company, it was a stuck company. The company's management team didn't know they were stuck, and neither did I. When I began this project, the 9Stucks concept was not even a thought.  This project was how I started my own boot camp years ago.
You have used or seen this company's products
StorageCo was a proud, 100-year old, third generation, family-owned business owned by a brother and a sister. They manufactured disposable storage products that are used and consumed by millions of Americans every year.
The siblings had been disappointed with the company's overall performance for some time.  They finally decided it was time to bring in an independent outsider… a 'fresh pair of eyes' to do an objective review of the business and help them craft a performance improvement plan.
I was lucky to be referred to the owners by a private-equity firm partner who is a friend and client of mine. He  was a close confidant to the two owners and was on their Board of Directors. They were looking for a business consultant with experience in family-owned companies and I seemed to be a good fit.  Like all good referrals, I had an 'in'.
During my initial meetings with the owners (pre-proposal discussions) I listened a lot. The CEO (call him Pete) was a weary, angry, and frustrated family-business owner. He kept focusing on the company's 'cost problem'. He told me:
"Our poor financial performance is something we can't put our finger on. We barely break even each year, our growth is flat, and our gross margins are declining. It seems the harder we work, the less we have to show for it."
Pete brought up all sorts of things in our initial meetings, but the topics had little to do with costs or expenses. In no particular order, I heard about:
family quarrels
exit planning
increasing competition
disagreements over strategic direction
the need for succession planning in a family-owned business
drastically changing customer needs
an unwieldy organizational structure
It was obvious to me that Pete's 'cost problem' was one of the symptoms of poor business performance but it wasn't the cause…StorageCo had an intermingled collection of strategic, operational, financial and people issues that needed to be fixed.
If some of the causes of the poor performance were obvious to me (and maybe you), you might be wondering why someone like Pete (a hard-working, conscientious, experienced executive with an Ivy League MBA) felt like he was unable to effect real change in the company he had known literally his whole life.
Now What? Time to Poke, Dig, and Prod
After spending a lot of proposal time with the two owners – brother and sister – they agreed to an 'integrated strategic, operational and financial assessment'.
This project allowed me to rummage around the plants and delve into the affairs of the entire company and management team.
What do you think the major issues might be?
What areas of the company should be investigated?
Find out what happened after the project got going…The second installment in The 9Stucks Boot Camp Series: "An Eyeful and an Earful"