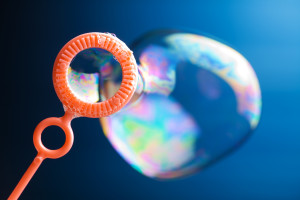 I recently returned from my college reunion… swept back in time to the days when living in my college bubble was a secure yet liberating environment.  Those were happy personal times – times of discovery, growth, socialization, and empowerment.
Based on my experience working with 'stuck' companies, executives caught in a company bubble might not be having as much fun. Operating in a company bubble suggests you are isolated, cut off from outside perspectives.  Is your company operating in a bubble?
This is Part 4 in my multi-part series that explains how 5 particularly disabling conditions can exacerbate family business underperformance.
If there is a weak independent board of directors/advisors, or one doesn't exist, then governance and decision-making at the top of a family owned company is concentrated and insulated.  Due to the historical, generational ownership structure, there is a tendency that a family business could be prone to operate in its own unique bubble. If this is the case, does the addition of weak governance to the mix cause a family company to live in a double bubble?
What's the significance of the 'no governance' topic? Many privately-held companies do not have any formal board of directors/advisors.
I've seen first hand where the lack of solid governance makes a difference. Similar to the other issues covered in this 'Pesky Plights' series, the absence of good external, independent governance could have negative implications on company execution.  Weak or no governance may prevent the family shareholders from facing up to and dealing with a myriad of challenges within their company.  Carefully assembled boards bring accountability, seasoned advice, realism, objectivity, innovative ideas and often inspiration.
Consider the situation at an established – but flat and stuck – family-owned manufacturing company with no outside board (let's call it BubbleCo).
BubbleCo's majority family shareholder:
Talked about succession planning but struggled with its implementation (see Part 3, The Handoff)
Took out excessive cash compensation and perks at the expense of the business operations (see Part 1, The Seesaw)
Downplayed the contributions of others on the management team (Stuck in a Ditch)
Listened to her team's thoughts on strategic direction, but was set in her ways and remained Stuck in Another World (see Part 2, The Strategy Freeze)
Ignored the increasingly competitive environment (Stuck in Traffic)
Risked losing key employees due to all of the above
Ultimately the risk of losing valuable employees, a significant drop in shareholder value, and a mini internal rebellion caused the owner of BubbleCo to set up an independent board of directors. The board helped her and her team:
navigate through BubbleCo's changing environment
design her succession plan
implement the leadership transition to both non-family and family executives
Change did not happen overnight. But within a year progress was being made on all the issues in the above list.  The board was a major catalyst to help accelerate the change program.
How to Burst the Bubble
I've been an active member of the boards of directors/advisory boards for a number of privately-held companies.  The majority shareholders of these privately-held companies were private equity/venture capital funds, families or the management team. The primary agenda of a board should be focused on a company's value creation process.
How boards can add value
Professionalize the company
Separate ownership from management issues
Separate family from business issues
Recruit key executives
Depoliticize sensitive matters such as compensation
Unlock the value of the company
Refocus management's attention
Challenge the strategic direction and business model
Do some blocking and tackling: advice on annual operational and financial plans
Produce Out-of-the-Box thinking: acquisitions, divestitures, financing alternatives
Help with succession planning
Help with an exit strategy
The directors can take the blame
 Board size and composition
How big should a board be? What is the best mix? For a private company, I suggest a total of 5-7 people depending on the number of family members. There should be no more that 2-3 family members on the board.  I am on one board now with 5 non-family (including the non-family CEO) and 2 family shareholders.
Consider these thoughts when establishing a board
Being on a board is a contact sport – expect members to show up and be prepared
If setting up a board is simply for window dressing, don't bother to go through the effort of recruiting people and pretending you want one. Be honest with yourself. Do you want to be challenged by an independent board?
Join a CEO Peer Group if you don't want to make the leap to a formal board. Peer groups are a great resource. I facilitate a monthly group called The Board Forum that meets in Portland, Maine.
Outside director selection criteria – what to avoid:

Current advisors – accountant, legal counsel, investment banker
Someone with similar industry experience – this may just be another member of your industry bubble. Same church, just a different pew.
"Star quality" individuals for the sake of prestige. I dislike the use of the term 'Rockstar'.
Friends
Golfing, boating, (you pick the hobby) buddies
Establishing a board of directors or advisors does not suggest that management cannot handle what they've been given.  It suggests they are open to objectivity and accountability that can propel their business to better performance. 
This is the fourth post in a series about the 5 missteps of leadership that can exacerbate the 9Stucks in a family owned company. Part 1 of the series described what happens when the family needs and the business needs are out of balance. Part 2 of the series examined why the process of making the basic strategic choice of innovate and grow vs. maintain the status quo can be an exciting journey forward, or a source of conflict. Part 3 of the series delves into the difficulties associated with succession planning.