What is this thing called 9Stucks?
9Stucks is a dynamic business diagnostic tool. It identifies nine distinct yet interrelated business challenges that cause a company to underperform.
03/19/2015 By Jim McHugh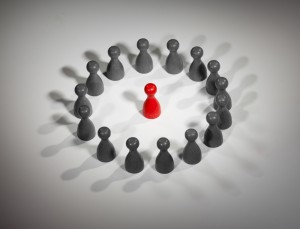 Note: This was originally published in the March 2015 issue of Private Company Director Magazine. Reprinted with permission of the editors.
"You've become one of them." That's what a fellow Director ("MoneyGuy") said to me after one of XYZ Company's regular board meetings. MoneyGuy was from XYZ's lead investor group and the majority shareholder. The 'them' MoneyGuy was speaking about was XYZ's management team. From his tone, I knew MoneyGuy wasn't giving me a compliment; I was being admonished because I 'sided with management' about a particular matter that was pivotal to the future of the company.
What had I done wrong? To find the answer, you'll need to read the following fifteen "rules" on how to work with owners.
These rules apply to different ownership structures of private companies. In general, the shareholders in private companies are either families, private equity/venture capital groups, management/founders, or a combination of these. The rules are indifferent to the stage of the company (early stage, mature, in decline, whatever). Hopefully you will see why these distinctions don't alter how I work with owners.
Here are my fifteen rules:
1. Remember your role as a fiduciary. MoneyGuy knew I had a fiduciary responsibility to the corporation, not just to him and his private equity firm. They put me on the Board to be 'an outside, independent voice.' Somehow that slipped his mind! This brings me to Rule #2…
2. Don't be a rubber stamp. You can get rubber stamps at Staples. MoneyGuy or any other majority shareholder should realize that you are not on the Board just to be another automatic vote for them. Another Director friend told me: "There is a fine line to walk as an independent director when those sitting around the table own the company and you are effectively their invited guest." If management knows you are truly independent and not there to throw them under the bus, this will help build trust with all.
Read More
05/21/2013 By Jim McHugh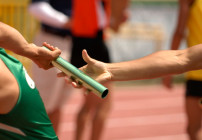 I ran outdoor track both in college and high school. Since I was a fast runner (back in the day) I always ran one of the legs of the 4×100 and 4×200 relay teams. Our relay teams practiced daily on perfecting the handoff – passing the baton. We had the relay leg transitions down pat. Unfortunately family-owned businesses may not plan for a leadership transition and may bungle, delay or simply avoid the handoff to the next generation of family leaders or to non-family executives.
This is the mid-point in my multi-part series that explains how 5 particularly disabling conditions unique to a family business can exacerbate business underperformance.
This post is about companies with non-existent succession/transition plans. When owners can't or won't let go, four of the 9Stucks (Ditch, Moment, Slow Lane, and Another World) get really amped up and push the stuck company into a deeper hole.
Family company leaders often stay in their roles too long.  But staying too long is not the problem; being in a zone of leadership indecision creates troublesome ripples throughout the entire company.
FamilyCo was one of my stuck manufacturing clients. I was hired by the company/family to do a 'fresh eyes' assessment of their business. The company wasn't in trouble but it had hit a wall and was stagnating. It didn't take me long to figure out there were issues with the senior team, the company's competitive position and a number of important operational functions.
The children told me: "Dad was the driving force to get the company to where it is today, but now we think he has blinders on; he doesn't acknowledge all the changes in the industry, the shifting customer demands or the need to upgrade our facilities, systems and equipment. He is living in the past. You (me) need to talk to him about letting us run the company."
Read More
Filed Under: Another World, Ditch, Governance, Leadership, Moment, Slow Lane Tagged With: Bill, Board Of Directors, Business Part, business transition, CEO, entrepreneur, Family Business, Family Companies, Family Leader, Family Owned Business, Family Owned Company, Leadership Transition, ownership, private company boards, succession planning, Transition Plan