What is this thing called 9Stucks?
9Stucks is a dynamic business diagnostic tool. It identifies nine distinct yet interrelated business challenges that cause a company to underperform.
09/18/2013 By Jim McHugh Leave a Comment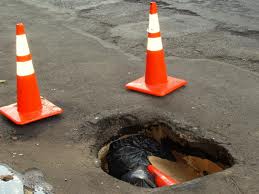 I've been contacted a number of times this year by business partners who are bickering with each other and/or struggling over the condition of their business.
It seems like there have been more of these calls than in the past…maybe my blogging is the little nudge that pushed the business owners to either phone or email me.
Do you and your business partners get along?
Yes? That's great! You are in good shape. If you want to maintain that success, I suggest avoiding the potholes by reading this post.
No? Did you get along when you started out, but not anymore? What's changed?
There are 7 reasons (7 Partner Potholes) why conflict creeps into 'partner' type businesses and causes successful companies to fray or even break up after many fruitful years of existence. Conflict among business partners can become burdensome, intrusive, even crippling to the day-to-day operations of a company. Over the course of my business career, I have seen and/or worked with companies that have had ALL of the 7 Partner Potholes.
How can these situations be fixed or avoided? Are there some partner conflicts that can't be fixed?
For purposes of this article, I define a 'partner' type organization rather broadly. Some of my business partner examples include, but are not limited to:
a company with 2 or more shareholders
a company founded or acquired by one or more entrepreneurs and who subsequently allowed others to become shareholders over time (the equity mechanism is not relevant for this article)
a professional services firm (e.g. consulting, engineering/environmental, medical practice, accounting, financial advisory, wealth management, investment banking, law etc.)
a group of managing partners of a venture capital or private equity firm
there are obviously more examples…
Note: Excluded from this discussion are 1) family-owned companies and 2) companies with substantive, outside investments from venture capital/private equity groups (i.e. no institutional money to muddy the water). These two types of companies can have their own unique set of leadership issues that are different from the business partner dynamics discussed below.
In many of the situations I've witnessed about these seven, the stories fall into the 'you can't make this stuff up', Stuck in the Ditch genre. No MBA textbook will cover this ground.
Presenting the 7 Partner Potholes: Read More
Read More
05/21/2013 By Jim McHugh Leave a Comment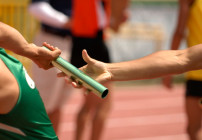 I ran outdoor track both in college and high school. Since I was a fast runner (back in the day) I always ran one of the legs of the 4×100 and 4×200 relay teams. Our relay teams practiced daily on perfecting the handoff – passing the baton. We had the relay leg transitions down pat. Unfortunately family-owned businesses may not plan for a leadership transition and may bungle, delay or simply avoid the handoff to the next generation of family leaders or to non-family executives.
This is the mid-point in my multi-part series that explains how 5 particularly disabling conditions unique to a family business can exacerbate business underperformance.
This post is about companies with non-existent succession/transition plans. When owners can't or won't let go, four of the 9Stucks (Ditch, Moment, Slow Lane, and Another World) get really amped up and push the stuck company into a deeper hole.
Family company leaders often stay in their roles too long.  But staying too long is not the problem; being in a zone of leadership indecision creates troublesome ripples throughout the entire company.
FamilyCo was one of my stuck manufacturing clients. I was hired by the company/family to do a 'fresh eyes' assessment of their business. The company wasn't in trouble but it had hit a wall and was stagnating. It didn't take me long to figure out there were issues with the senior team, the company's competitive position and a number of important operational functions.
The children told me: "Dad was the driving force to get the company to where it is today, but now we think he has blinders on; he doesn't acknowledge all the changes in the industry, the shifting customer demands or the need to upgrade our facilities, systems and equipment. He is living in the past. You (me) need to talk to him about letting us run the company."
Read More
Filed Under: Another World, Ditch, Governance, Leadership, Moment, Slow Lane Tagged With: Bill, Board Of Directors, Business Part, business transition, CEO, entrepreneur, Family Business, Family Companies, Family Leader, Family Owned Business, Family Owned Company, Leadership Transition, ownership, private company boards, succession planning, Transition Plan